Scans via
ROBsessed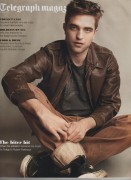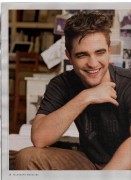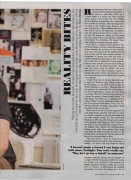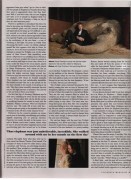 Talked about Bear, writer described him physically as "strangely mask-like features are all arranged on a single, frontally facing plane, perfect for staring up through your eyebrows at a camera, but slightly squashed-looking in profile, like a Greek vase or a Picasso."(lol) He talked about Tai (not Sia-more lols).
On Edward,
"I've never seen anything that is great about him. But I do completely understand falling in love with someone, and feeling like you need to sacrifice anything, and there is a kind of parallel with being in love with some kind of addict, and you don't want to change them or they can't change. I always find that part of the core story interesting."
"Catherine used one fo my songs in the first one - I can't imagine that happening now, because its a huge deal for recording companies to get a song in the soundtrack."
On Kristen
, "It would have been a lot harder if we didn't get on, mainly because we spent so much together. From the first day I met her, there was an energy. A lot of people get famous and they lose their mind. You can just tell with Kristen that she's the total opposite. It's really, really hard to find someone like that."
On Cosmopolis' role, Eric Packer
"the guy is a total nihilist in every way possible, the anti-Edward."