ETA: Ok, so it has been established that it was really Rob in that cute hammock. Now, my question is can loquat trees hold a hammock. haha I bet one is already installed in a backyard somewhere in L.A.


. That blue shirt and that sex hair. Old pic with Charlie Bewley, now with less tags. Hah!
More of the same 'stalkerish' pic
There is a video of the rented villa, its really creepy but if you're interested, click
HERE
Thanks to
Fiorels90
for this link. Translation below.
Pic from the vid. lol at Rob's light blue jeans.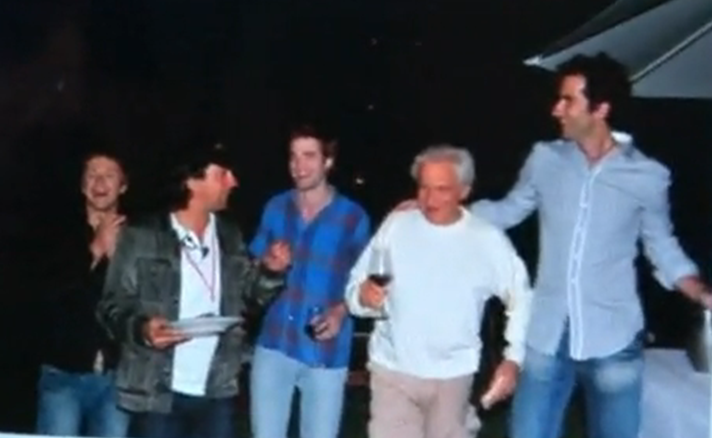 The creepy
video
was translated by Ele. And she found out some very interesting bits for us.
T
hanks so much Ele.
0:00-0:18 "Robert Pattinson was very nice. You expect actors ,that have reached such a high level of fame, to make lots of demands and be a little whiney. On the contrary, both Robert and Kristen, and the other actors as well, seemed to be very normal people."
0:19-0:38 " He( Robert) spent a lot of time alone in the lobby of the Palazzo Comunale, outside the office block, so he occasionally would bump into municipal employees."
0:28-0:37 "The only request he made was not to be disturbed, because he, more than anyone else, needed to focus for the scene he was about to shoot".
0:38-0:52 "He has a lot of appeal, and part of it may stem from the character he portrays. Obviously, when he took his shirt off, a cry rose from thousand of people that were gathered in Piazza Grande."
1:02-1:14 " They yell "cut", I turn and here he is: this naked god! And he bursts out laughing! Imagine Robert Pattinson laughing right there in front of you! I was literally trembling!"
1:31-2:37 " Welcome to Villa S.Bruno, in Montepulciano, where the cast stayed during the shooting of New Moon in May.
Robert is also a musician. He had his guitar with him and in the evenings they would gather in the garden where Robert played some music. I asked him where he lived and he told me that his house was his luggage.
Outside the gates there were hundred of fans ,but nothing dangerous happened. One parent took a picture of Robert, who was taking some rest in the hammock, from the swimming pool."