via
RPLife
More HQs
RPLife
Kristen arriving in London July 31st.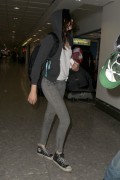 Celebuzz TarynRyder
Robert Pattinson was photographed solo in Notting Hill on Friday night after dinner and drinks with girlfriend Kristen Stewart. The couple was at The Cow Pub there in London, and Rob was snapped coming out the front, while Kristen slipped out another exit.
You can see R.Pattz carrying a backpack, and it didn't take long for some of Celebuzz's favorite Twitter followers to point out to us whose pack that is…Kristen's of course!
If you notice the blue ribbon, it's the same one on the backpack she has been photographed with.Witnesses at The Cow say the couple kept to themselves at the bar, cuddling and were in their own world.
Pattinson and Stewart have been inseparable over in the UK ever since Rob touched down, and the duo spent this entire weekend together.Kristen is currently filming Snow White and the Huntsman in London, so we're glad she is able to hang with her man when she gets some downtime!