ETA: "Early tomorrow evening, Entertainment Tonight (check your local listings) and Yahoo! Movies (immediately following broadcast) exclusively debut two THE TWILIGHT SAGA: BREAKING DAWN - PART 1 teaser one-sheets!" via Robsessed

UPDATE via TwiExaminer A lot of you have noticed and spoken up about the fact that the hand pictured with the engagement ring here is the right hand, and, rightly, several people expected that this was due to the design of the engagement ring (i.e., that it wouldn't fit comfortably with a wedding ring). I've received confirmation that this is the case. "Bella" is going to be wearing her wedding ring on her left hand, so she has moved the engagement ring to the right. It makes sense, right? This is just the reason why it's on the left. No confirmation that the wedding band would be seen on her left hand in the poster.

@Jack_Morrissey@TwiFans Per Bill just now, she wears both rings post-wedding, except for two scenes.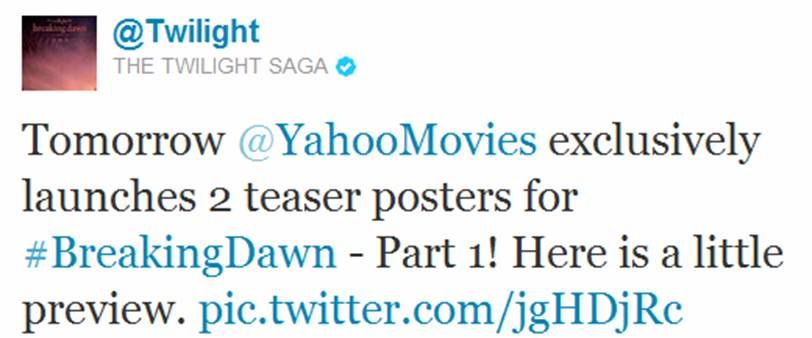 Twilight
Tomorrow @YahooMovies exclusively launches 2 teaser posters for #BreakingDawn - Part 1! Here is a little preview.