Rob in NYC or in LA? Tweeted sightings since September 1st.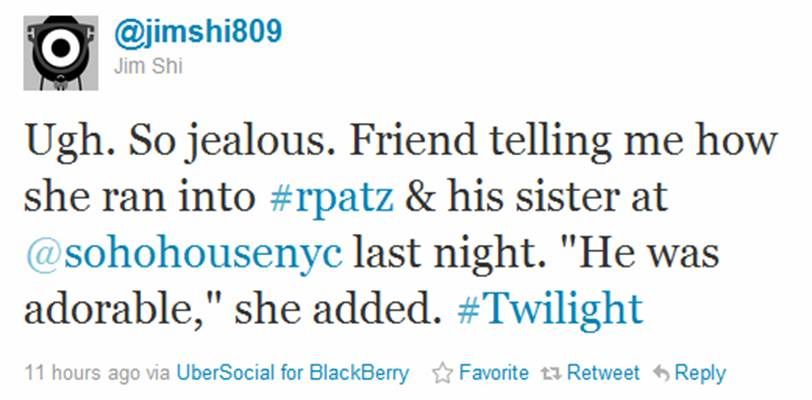 September 2
jimshi809
"Ugh. So jealous. Friend telling me how she ran into #rpatz and his sister at @sohohousenyc last night. "He was adorable," she added. #Twilight"
HollywoodLife posted almost the same sighting BUT it was
dated September 1st
. Rob with sis Lizzy (but they posted Victoria's pic) and BFF Sam Bradley. Location: Soho House in West Hollywood. "
Rob was dressed down in his usual unbuttoned plaid short sleeve shirt with a black tee underneath, topped off with a trucker hat."
and
"Rob was sporting a full on beard."
Wrong date? Wrong sister? Or wrong location? Oh well, its HL lol
Here are the other NYC Sightings, dated September 1st.
Laurasturn
"Robert Pattinson can't even smile when he's hanging out with @hamishandandy...wow. The guy clearly has issues."
iniikim
"Robert pattinson at The Smile."
@pattstew24 "it's a cafe/restaurant in NY and he was with a male friend."
@happymommy81" it's a cafe/restaurant in NY."
Joie_Clothing
"A source tells me I just missed Robert Pattinson at The Smile #fail"
Also, some fans are claiming (and sourcing AT board) about a September 3rd joint photoshoot with Kristen in NYC. The rumor might have just originated from this
tweet by Marcus Numair, dated August 21st
. Again, continued research about this guy resulted to nothing.