Updated! From Toronto-based @avabac "rob pattinson and kristen stewart are walking their dog on xxxville ave. Yes, they're holding hands. #Twihards, sorry ladies. I was driving at the time so no photo. Slowed down to grab a peek as I drove past. Definitely them. Holding hands." about 1 hour ago via Twitter.



sojinski
"Just bumped into Rob Pattinson at the airport lol thank god I'm not a twilight hoe. he was standing right beside me for the whole time and I didn't recognize him til thos girls started screaming. do have a picture of him walkin away."
Victoria1985
, also explains that the girl above either lives in Toronto or Korea but has been talking about a show in Toronto that will happen in 2 weeks.
While another who has been in Canada since May 5 tweeted: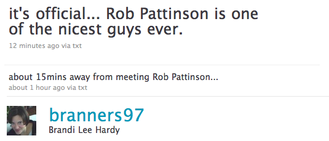 branners97
got bitched at by Canada Customs
( May5th tweet)
(May 7th tweets) "
about 15mins away from meeting Rob Pattinson.... It's official... Rob Pattinson is one of the nicest guys ever."
According to
isadoranassif
In @ branners97's facebook account says she lives in Toronto.
via
/
via
Where else could he be? lol But 'home' with Kristen and Bear.
In case you missed it,
Kristen and Bear were spotted in Toronto