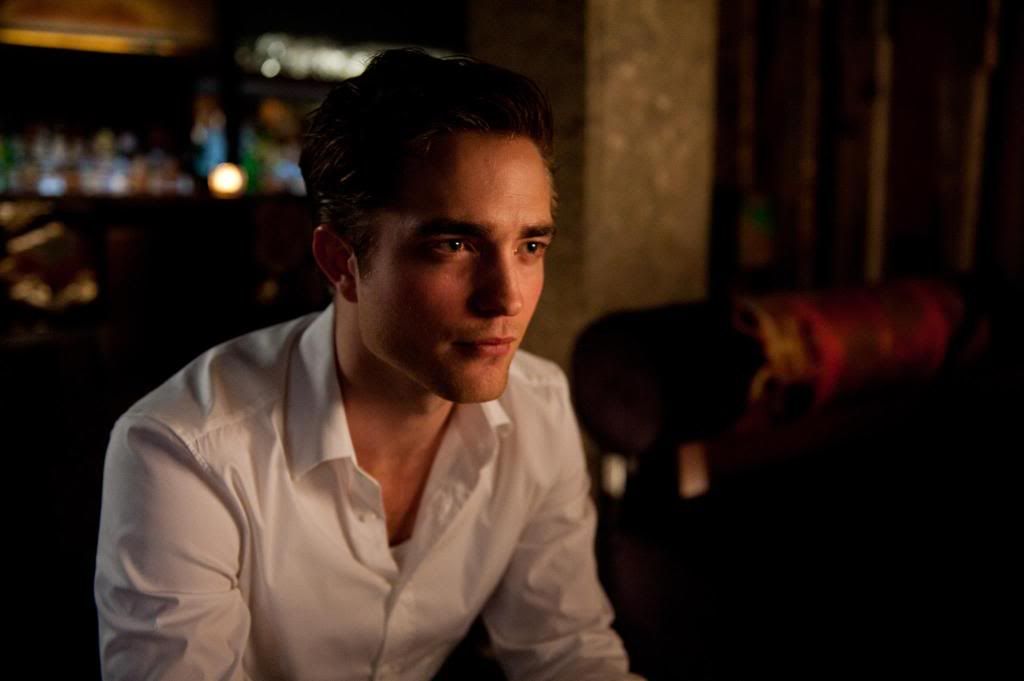 I'm pretty sure this came from a presscon/vid interview. Anyway, still great read. Thanks to @vonch
FlicksandBits
Spending much of the time filming in the car, in isolation, with David Cronenberg listening with headphones and communicating through an intercom system while watching the action on a monitor. How was that process?
Robert Pattinson: I was in a car for the majority of the time, and David was out by the monitors on an intercom, and yet he was incredibly sensitive to every little thing we did, even when we weren't conscious of it. He always seemed to pick up on things when they were getting interesting, and that was very reassuring. Shooting in the car helped me with playing Eric as well. I became familiar with the car and comfortable in my seat, while each of the other actors had to come in and figure it all out for themselves. Everyone else felt alien in 'my' domain. After shooting mostly in the limo for over a month, it was refreshing to get out and work with other actors experiencing a new set though (laughs).
What sets David Cronenberg apart from other directors you've worked with?
Robert Pattinson: It's a funny thing, David Cronenberg has this thing of going back to his trailer after he chooses a shot. Most directors will sit on the set, just waiting around until the shot's set up. I was always curious where he went. He'd be watching a live feed, in the trailer, of the shot being set up – I just thought he was sleeping or something (laughs). If you're sitting on the set, a bunch of people will ask you questions all the time, and a lot of directors, I find, are kind of exhausted by the time they're actually supposed to do their job with the actors. They're not really listening anymore. David is listening so intently when you're doing a scene, and you know if you get a certain feeling about a scene, you know David has seen it. Which is a relief, and it makes you pay attention to what you're doing as well.
With David Cronenberg's placement of cameras and different camera angles, how did that help your performance?
Robert Pattinson: I remember David would say how camera placement can affect your performance. I think a lot of directors and actors refuse to accept anything about camera technique, it's like they don't want to acknowledge that the camera is involved in acting – which is something I always thought was totally ridiculous. And then for someone to completely be frank about and say, "Listen, if I put a camera here, it's going to totally affect the way you perform." And it really did, the blocking was like direction, which I'd never really experienced before.
What was your first reaction to the script?
Robert Pattinson: I received the script about a year earlier, it was one of the most original scripts I'd ever read. I didn't think I'd get the part, but then the offer came out of the blue and I was amazed! David Cronenberg's films are consistently thought-provoking and innovative. I was scared at first, I had no idea how I was going to play it, mainly because I could interpret the script and play it so many different ways. David was great though, I always knew I was in good hands with him. I could feel David moulding it as we shot, and that made me really comfortable because it meant there was no specific right or wrong way. Eventually, I was very relaxed, especially for it being such an intense piece.
What was it like preparing to play Eric Packer, this slick, jaded, multi-billionaire Wall Street CEO
?
Robert Pattinson: The preparation, I kind of spent two weeks in my hotel room worrying and confusing myself (laughs). I remember the weekend before we started shooting, I called David to talk to him about it, to ask him "one question" (laughs), like, 'Want to talk about the movie for a bit?" So then I went round to David's house and he said, "It doesn't really matter. Let's just start, then something will happen." I think Eric Packer's impossible to approach like you would a normal character. What I liked about the script initially was its lyricism and just the rhythms of it. I mean, normally when you do a movie, you can kind of blur the lines and you can make it your own. But with this, I didn't want to change a single word, not even the punctuation. That made it easier, it's like you're doing a song instead of a movie. It was interesting, it freed you up. If you're trying to do something in a cerebral way, it becomes about ego and it's silly at that point. Actors aren't supposed to be intelligent (laughs).
'
Cosmopolis' touches on a great number of themes; self-inflicted socio-economic decay, emotional dysfunction, sex, power… How do you look at the film?
Robert Pattinson: It's funny, the first time I saw it, I didn't even think about the greater scope of the movie. But when I first saw people's reaction and they were talking about nihilism and stuff….I think it's actually a really hopeful movie (laughs). Everyone's asking me what's the movie about and I have no idea. Someone told me it was about the end of the world. And I started thinking about that, and it kind of is in a way, I guess. But the hope in it… you present a world that doesn't make any sense to anybody, which is why I think finance is the best metaphor for that. Finance doesn't make any sense to me anyway! Finance seems to have absurd, disproportionate power. You say it's ending the world, but the world doesn't end, it's just a rebirth. And I think in a lot of ways, when I look at the world, maybe I'm just a depressive, I think sometimes the world does need to be washed and cleansed. And that's the hope of it.