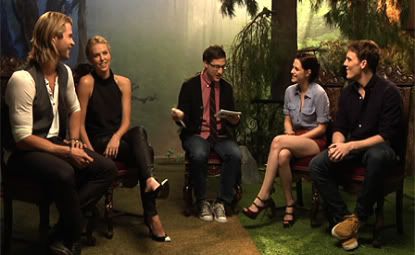 ETA: Update!
Tweet from Josh /
@joshuahorowitz
: To clarify, the Snow White event with Kristen is NEXT Tuesday @11pm on MTV/MTV.com. And it tapes next Tuesday. Brand new.
Here's a link for any folks in LA who want to try and come by to any of our Sneak Peek Week screenings/Q and A.
ticket information
.
kstewartnews
It would be taping Tuesday May 29th 2:00PM PT in Los Angeles.
MTV
Beginning Tuesday, May 29 through Friday, June 1, MTV will screen some of this summer's hottest films for a selection of very lucky fans. The lineup includes 'Snow White and the Huntsman', 'Magic Mike' and more. But don't fret, readers — we didn't forget about you at home.
During the weeklong festivities you can catch some of the castmembers from each film on MTV at 11 p.m. ET to introduce an exclusive clip from their movie! And, of course, the fun doesn't stop there. Immediately following the on-air presentation, MTV News' Josh Horowitz will be on hand for a Q and A with the actors live on MTV.com. You can follow along with the action on Twitter using the hash tag #MTVSneak.
On Tuesday, we're hanging out with none other than Kristen Stewart as she and a few of her co-stars give us an early glimpse at "Snow White and the Huntsman." Stewart plays the title character in this revolutionary take on the classic tale. As she's sought by Queen Ravenna (Charlize Theron) — who's intent on destroying her — she teams up with a Huntsman named Eric (Chris Hemsworth) as they attempt to reclaim their kingdom. The cast also includes Sam Claflin, who plays William, a young duke enraptured by Snow White's purity and defiance.
So, how do you nab one of the coveted seats in the audience to view these flicks and see the stars in person? Glad you asked! MTV partnered with Chevrolet for the First Look contest.
More on MTV
via
kstewartnews
MTV Movie Awards TV Spot. Don't forget to
VOTE
for Rob, Kristen and Breaking Dawn Part 1.