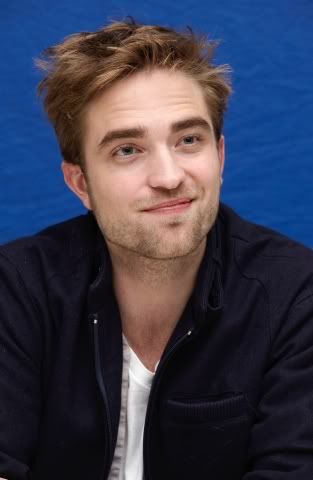 Translated by Mel452 /RPLife
EpocaGlobo Unlike most actors, the English Robert Pattinson, 25 years of old, thinks ex scenes are easy. There are other things that are scarier: having to appear shirtless or doing comedy, especially in TV Shows like Saturday Night Live, as he told Epoca in two interviews: one as a roundtable and another exclusive one:

EPOCA - All actors say that sex scenes are very awkward to do, you always have a lot of people around. As you and Kristen know each other so well, was it easier?
Pattinson - Actually I don't think doing sex scenes is weird. You know that nobody will say anything, the directors don't want to embarrass themselves, they won't tell you how to do it. But it's fun to do them with Kristen, it seems kind of silly. In fact, it becomes more difficult. When you don't know the other person you won't say she's doing something silly, or joke all the time. If you know the person, it's more risky (laughs).

EPOCA - Kristen Stewart said the wedding scene was as if she were living it. How was it for you?
Pattinson - Kind of easy. Especially in the beginning. There was so much expectation because of the dress, paparazzi everywhere that Kristen was very stressed. As she was walking to the altar, and the camera approaching me, I started to get nervous because I saw how shocked she was. So I had to think that I needed to support her and act as if I knew what I was doing (laughs).

EPOCA - With the end approaching, are you thinking "thank God"?
Pattinson - I don't know yet. I'm working non-stop since I finished. I had a month and a half off after four years. I imagine that when the next is released, it will be different. The series left me stuck to the same person I was when I was 21 years old. And when it finishes, I will be 27, will be a very different situation.

EPOCA - Are you planning a vacation?
Pattinson - Not really (laughs). I'm not very good with vacations. I had two months off and I read a million scripts. I didn't find anything, if I had, I would have shortened my vacation (laughs). I like being on set. I'm more relaxed when I'm working.

EPOCA - You have played the same character in five films. Does it happen a lot that you get roles offered to you like Edward? Are you not afraid to be this way forever?
Pattinson - Now, not so much. I think my agent doesn't send me that type of thing, because she knows that I will read one page of something that looks like Twilight and I won't finish it. So she just sends me things that are different. But I was afraid, yes. Almost immediately after finishing Breaking Dawn, I did Cosmopolis, exactly the kind of movie that I was scared of not being able to get it. And it kind of answered my question (laughs). It definitely gave me great confidence to think that there will always be different things, you just need to work for them.

EPOCA - You think that's the direction you want to go? Or would you like to do an action film, for example?
Pattinson - If it's something nice. I feel that I haven't done the movie I really want to do. I do not know what it is, of what type. But I know it exists. I hope to find it soon (laughs).

EPOCA - Do you think that in any future work you will avoid roles that you have to be shirtless?
Pattinson - I have to change my lifestyle if you want to work shirtless. But it seems that every actor in the world is doing a scene like Taylor Lautner. It's crazy. In each film there is a scene where the main actor shows his abs. And I: "Really? You're a regular guy, working at an advertising agency? "(Laughs) It makes no sense, but is a prerequisite for actors now. Maybe I should stay fat...

EPOCA - You Could be more careless with your appearance if you did comedy. Do you want to do comedy?
Pattinson - Even comedians have abs! (laughs) And it is impossible to do comedy. People ask me to do Saturday Night Live as part of the promotion of the films and I say, "No chance! Not in a million years. "It is very frightening.

EPOCA - But you were funny at the MTV Awards.
Pattinson - Oh, my God. I didn't even say half of the joke, it was awful. It was funny when I planned. So I don't want to do Saturday Night Live. I wrote down everything and forgot about the first page, I ruined it.

EPOCA - Do you know what you're going to film next?
Pattinson - I'm deciding what to do in January. But first I will get a six pack (laughs).