Paris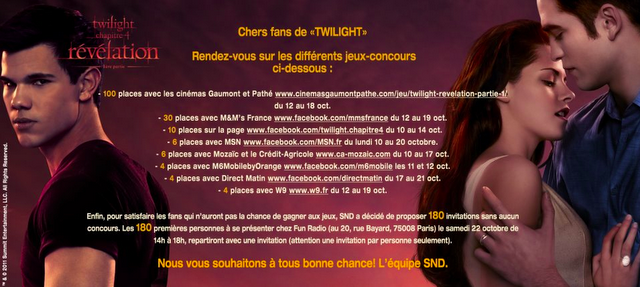 The unpublished 10min film will appear only in Fan Event.
Although the Fan Event takes place in Paris we held most of the contests on the national media so that everyone has a chance.
All three contests, with the exception of Fun Radio and MSN can earn 1 x 2 places.
A Red Carpet will be set up for the coming actors. We are meeting with Summit to see if it's possible to have an autograph signing and photos. A translator will obviously present.
The remaining 156 places will be dispatched between the national media journalists, bloggers that we worked since the beginning of the saga, as well as our partners.
Check out all the contests
here at Twilight-France
Good luck!
____
Here are the details on how to win tickets for the Paris fan event (check the banner for all contests, dates and urls). It's going to take place at the Gaumont Opéra Capucines from 6 to 7pm, Sunday, October 23rd.
Rob and Ashley will spend 40 minutes answering fan questions. When the QandA is over SND and Summit will surprise the French fans by showing them 10 minutes of Breaking Dawn.
Twilight-vef-France
via
twilightish
Previous post about the
Paris fan event
hey will show exclusive material from the movie Breaking Dawn Part1!! There are NO tickets available on sale: you can only win them via contests in the Belgian media. There will also be some contests in the Dutch media
There WILL be a red carpet, so fans can still meet them if they don't win tickets. The event will be held at the "Square", Ravensteinstraat 2, 1000 Brussel – Belgium
There are 800 tickets available and 20 of those are gonna be available via
Q-music
Other contests will be held by
Joepie.be
and
JimTV.be
.
You can win tickets NOW via
Nieuwsblad.be
they have 50 tickets (25 sets of 2 tickets) available and the contest is until midnight of October 14th! You do need to register to be able to enter the contest.
ToR
via
RPLife
Check out
Twilight-Belgium
for more updates.
Previous post about this fan event here
HERE
Win a meet-and-greet with Rob and Ashley in Stockholm - October 28th
Metro
Sweden is giving away a meet and greet with Robert Pattinson and Ashley Greene to one lucky winner. All you have to do is answer the question below and give reasons why you should meet with Rob and Ashley.
Click here to enter the contest
Good luck!
ToR
gossip_dance