Spoiler Alert!
More HQ, fan pics, videos and tweets after the CUT.
ETA! Updated with more HQs and a new fan video. and tweets about Kristen on set.
Happy birthday to
SuzyQSparkles
t
he sweet girl who comes up with the most giggle-inducing fictional R/K ramblings
-
RamblingRobsten
.
Enjoy your special day sweets.
Rob filming Cosmopolis
Rob leaving the Cosmopolis set
Steve_s2001
"4:15am Robert Partinson signed autographed and took photos with fans after wrapping on Cosmopolis. Pics of Rob to come later. Plus he was on set with a gun again. No sign of Kristen Stewart hanging out in Rob's trailer tonight while he was shooting Cosmopolis last night. Robert Pattinson was nervous & biting his nails before filming his scenes around 3am. Rob is done filming for the night. He will be filming until July 15th. This is the HAPPIEST I have seen Robert Pattinson last night while Joking around with fans at 4:15am. BIG SMILE!!!"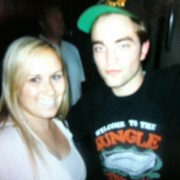 Nicole_cayer
"I met Robert Pattinson last night! I know right! I was obviously super excited! He was filming downtown last night! he's filming in toronto! And ya he is, she was with him when we saw him! @mrwillw she was definitely there, I spoke to her last night...@Marma0408 bc we didn't see him when they left. We saw them when they arrived at about 930."
I
don't know how true... lol via @victoria1985
"They were filming downtown last night for about 11 hours. Me and my friends were there and we spoke to Robs stunt double and a producer (David Yates, very nice man) and they said they were only filming for another week and then the film would go into post production. Two girls who were there… ignored the pylons and just went up and knocked on Robs trailer door when no one was looking. Security didnt notice..and they actually found someone in his trailer when he wasnt there. After the girls left I asked if someone had overheard them…and they said that Kristen stewart opened a curtain and waved to them. They werent expecting her and didnt get photos but the girls were really shook up."
source
More Fan pictures.