Fox has released a statement through their WaterforElephants-Official Facebook regarding the animal abuse video that has been making the rounds.

Official statement from FOX regarding "Water For Elephants" and the animals used in the film.

"Fox and the filmmakers are disturbed and saddened by the video being circulated that purportedly shows Tai being mistreated. We are strongly opposed to violence against animals and were not aware of any mistreatment of the animals in this movie. We have learned that the video was taken in 2005, long before the movie was in production.
None of the animals in the movie were taught any new "tricks" for the film. A representative from the American Humane Association was on set and monitored every instance in which animals were used and can confirm that no animals, including Tai, were mistreated in any way during filming. However please know that associated with the movie or not, we are not okay with any form of animal abuse."
From the
Animal Humane Society
- click on link for more info.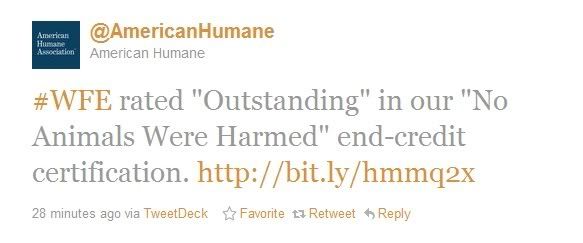 via
ToR
ETA
! You can read
'Have Trunk will Travel''s Official Statement
via
WaterforElephantsFilm
Read more about this on
The HollywoodReporter
One thing for sure Rob, Reese, Christoph, Francis Lawrence and Fox didn't know about this and would never allow such abuse. This is just sad.