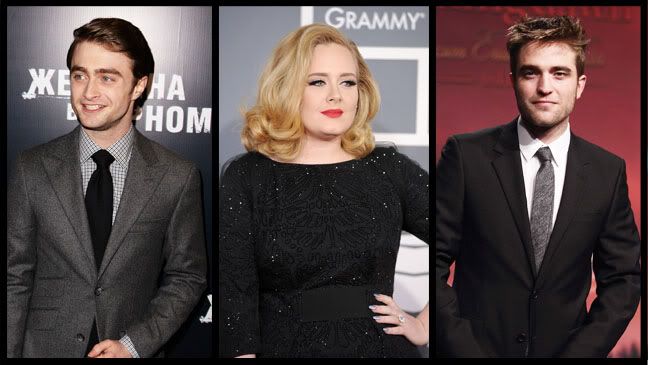 TheHollywoodReporter
LONDON - Actors, such as Daniel Radcliffe and Robert Pattinson, musicians, led by Adele, and models dominate the Young Rich List of British millionaires age 30 and under that "The Sunday Times" is scheduled to publish later this month.
Its Rich List 2012, set to come out on April 29, includes 60 young millionaires along with the 1,000 richest people in Britain and the 250 richest in Ireland, the paper said.
Outside of sports, which has its own Times rich list in May, more than half of the wealthiest young people in the U.K. are entertainers, according to the paper. (...)
T
wilight star Robert Pattinson saw a bigger $12.7 million gain in his net worth over the past year, but comes in second with $63.6 million (£40m)
.
Read in full at THR
via
Robsessed
Entertainment Wise
Actors, models and musicians dominate the Young Rich List of British millionaires under the age of 30 to be included in the Sunday Times Rich List 2012, published on Sunday April 29.
22-year-old Daniel Radcliffe has been named the richest young person in Britain, having earned a staggering £54m after starring in eight Harry Potter films, and more recently, The Woman In Black, which is said to have increased his fortune by £6m in a year.
Twilight heartthrob Robert Pattinson falls close behind with a fortune of £40m,
and model Rosie Huntington-Whiteley is a newbie to the rich ranks having earned £5m in her short modelling career.
@Gossipgyal