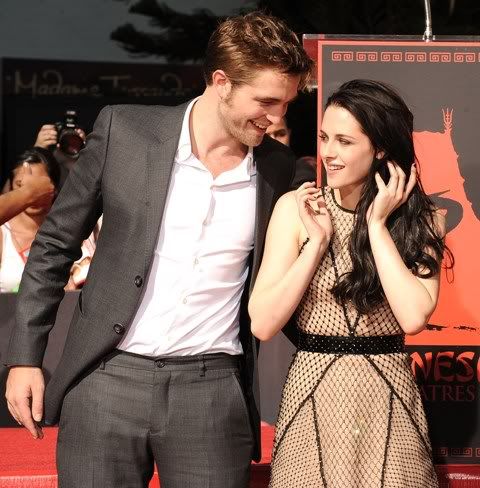 Kristen's interview
Chicago SunTimes
Once tense, Kristen Stewart now cool in the 'Twilight' spotlight
Seeming more relaxed than usual, Kristen Stewart admitted that after being in the intense media spotlight since she first stepped into the role of Bella Swan in the "Twilight" franchise,
"I guess I'm feeling a bit more comfortable talking about the work. I'm still intensely private about my personal life, but I've come to realize people do become very interested in actors as people — especially when you're lucky enough to be part of something as huge as 'Twilight.' "
That said, Stewart did stress in a Sun-Times interview that she still will "
ferociously fight to guard my privacy,"
but she added with a sigh
, "But I guess that is going to be on ongoing battle."
Part of that "battle," of course, is fending off the ongoing reports Stewart and co-star Robert Pattinson are a couple in real life — as well as on the big screen.
While Stewart would not talk about those rumors, she did respond directly when asked if there was anything that would surprise "Twilight" fans about Pattinson — or her other principal co-star, Taylor Lautner.
Laughing about the "Team Jacob" (Lautner) or "Team Edward" (Pattinson) debate among fans of both the Twilight books and the films, Stewart said, "
I don't know if there's much that would surprise people about Rob, except that he's probably more fun-loving in private than may come across in public. As for Taylor, I think people might be surprised to learn there are so many more layers to him. Yes, he's a lot of fun and all that, but he's a lot deeper than I think comes across in the media."
"The Twilight Saga: Breaking Dawn — Part 1," opening Friday, launches us into the two-part finale of the "Twilight" franchise — with the last movie being released next year.
"
The biggest change for me in this film was that Bella finally gets to be happy — at least for a bit of time. While clearly she exhibits a lot of bridal jitters tied to the wedding scenes at the beginning of 'Part 1,' there's some genuine joy there for both her and Edward."
Both "Breaking Dawn" films were shot at once, so "
we really had to keep focused over the six months we worked on this," said Stewart. "In the morning we might film an intense scene from 'Part 2,' but then in the afternoon would be something more fun — but from 'Part 1.' We really had to pay attention!"
Stewart loved getting to the part of author Stephenie Meyer's saga where "
Bella showcases so many different sides to her personality and her reality. There's Bella the new bride, then there's the pregnant Bella, the human Bella, the vampire Bella, it's really a wild ride.
"But as an actress, it was all so rewarding,
" said Stewart, who obviously loved being guided by director Bill Condon through these last two movies.
"He was amazing. I loved working with all of the directors of these films, but Bill is very special and I'm glad he was the one picked to wrap it all up. This was such a huge project, with shooting locations all over the world, amazing special effects and intense scenes to film — and he never once lost his cool. I don't know how he did it."
Another thing that Stewart enjoyed about filming "Breaking Dawn" was the constant presence of author Meyer, who had joined the project as a producer.
"Previously, Stephenie would show up on occasion, but now she was there all the time, and it really helped. It made me realize how much I could have been helped by having her on the set for the first three films,"
said Stewart. "
Just seeing her there almost every day really gave all of us a boost and provided so much inspiration to everyone — the actors, the crew, everyone."
Asked to weigh in which side of the "Team Jacob" or "Team Edward" side she's on, she said, "
Well, come on. After all, I do marry Edward and become a vampire. Don't you think that answers that question?"
Rob's Interview
Chicago Sun Times
Vampire love is not bloody easy. Robert Pattinson — a.k.a. Edward Cullen in "Breaking Dawn — Part 1" — tells the Sun-Times that his big-screen honeymoon was met with nervous jitters.
From the groom.
"I felt such pressure when vampire Edward had to make love to his mortal wife Bella for the first time,"
Pattinson says.
"Let's face it. The wedding is on the girl. The guy has to step up for the honeymoon. On the honeymoon, Edward insists they play a lot of chess to avoid … other things
," he says with a laugh.
"I read that in the script and said, 'Come on! Kristen looks so amazing in these little nighties. I don't think chess is what's on his mind.' "
Despite the real-life quandary of "are they or aren't they dating," Pattinson says it was "awkward to make love with all these expectations.
"After the first few takes, I was told to scale it back a bit. I guess I went a little bit too far,
" he says with a giggle — and this guy giggles a lot in person.
"Breaking Dawn — Part 1" is the "Twilight" film with the wedding, honeymoon and then a half human-half vampire baby on board.
And there is the interference from Taylor Lautner's Jacob Black, who still has a "thing" for Bella.
"
Edward is a bit too open-minded,
" Pattinson says. "I'd be like, '
Don't be an idiot.' I'd get rid of this guy. I'd unleash on him — werewolf or not. Personally, I think your girlfriend or wife wants you to lose it and push away the other guy. Women like when you confirm ownership. Believe me, no one would dance with my girlfriend if he were her ex. Not happening on my watch."
After acting a fictional vampire wedding, he isn't sure he wants big nups of his own.
"I did an interview with Kristen,"
Pattinson says,
"and she got annoyed with me for saying the groom's role in a wedding is basically to be a prop."
He has this advice for grooms:
"Any guy who tries to get involved in organizing a wedding or even has an opinion is ridiculous."
He did get very involved during Bella's horrific birth scene.
"It's so annoying that this is not an R-rated movie
," Pattinson laments.
"
This could have been very 'Rosemary's Baby,'
" he says.
"I wanted a little demonic possession. Ideally, Bella would have twins. One good. One evil."
He says the pivotal moment where Edward bites Bella and turns her into a vampire was movie magic. His first bites don't work so well, so he chomps her in the neck, the leg, the arms …
"It would have been more fun if I were doing this to Kristen,"
he says with a smile
. "I was actually biting a rubber dummy of Kristen. I was really nervous because it had to be violent, but because it's 'Twilight,' it also had to be a little dreamy. It was great because finally I get to be a vampire for a second and bite someone."
He is happy to put these "Twilight" years in perspective.
"I came to L.A. at 17 totally unemployed," he says. " 'Twilight' was like being propelled by a jet through a maze. It still hasn't slowed down. It's fun. Totally bizarre. And someday I will figure it all out. I didn't even know if I'd continue acting before this happened. Now, I do have a true drive and passion for it."
Just not too much passion. The suits are watching.
via
victoria1985