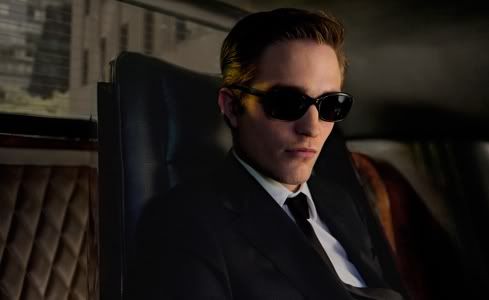 These are the parts where Rob is mentioned. You can read the complete production notes by downloading the full doc
HERE
CAST
David Cronenberg and long-time collaborator, casting director Deirdre Bowen, have assembled a remarkable cast, with talent from America, Canada, England, and France. The script is character-driven—much of the plot involves short, intense encounters between the protagonist and the secondary characters. The dialogue is central and often demanding. Eric Packer's personality and psychological journey unfolds in a series of close interactions with the people of the cosmopolis—his employees, lovers and enemies. Choosing the lead actor was crucial, of course, and because the rest of cast would have to work briefly but intimately with the lead, supporting roles also required strong casting.
"Casting is a black art,"
proclaims David Cronenberg.
"You can kill your movie by making a mistake before you've even shot film."
When Robert Pattinson's name was proposed for the lead role of Packer, Cronenberg watched much of his work—including the young actor's role as Salvador Dali in Little Ashes—and he was sold:
"Rob was the most interesting and exciting actor suggested for COSMOPOLIS, and I knew that he would bring something wonderful to the screen—maybe even something he didn't know he had."
Under David's direction, Robert delivers an edgy, understated performance. In fact, Robert notes that he has never felt
"utilized to this degree as an actor,"
and fellow cast member Paul Giamatti describes Robert's casting as "genius."
Robert Pattinson—Eric Packer
Eric Packer is a selfish young member of the ruling class, at the top of the super-rich 1%. He is an anti-hero whose privileged reality is decadent and isolated. Casting Robert Pattinson in this unsympathetic role wasn't obvious. Robert's super-stardom perhaps gives him some insight to the pressures of success, but his pressures include the attention of a zealous fan base that might expect him in a different role. And he is younger than Eric Packer was envisioned, an age difference that influences the rest of the casting process. On the other hand, young billionaires and tech-savvy traders are not unusual in today's society. Plus, casting Robert presents an opportunity to attract a new generation to Cronenberg's work.
Ultimately, the choice rested on Pattinson's talent and experience, with or without celebrity. Cronenberg found Robert mature and willing to challenge himself:
"...Rob is not deluded about his fame; he understands that popularity is not the essence of being a good actor, and recognizes the danger of taking projects to please others rather than himself."
Bringing the egomaniacal Eric Packer to life required Pattinson to forget being a sympathetic character.
Cronenberg observes,
"Some actors worry about not being appealing or sensitive, but that was never an issue for Rob; it was always about finding the often unlikable truth of who Eric is and what it means to be a 25-year-old billionaire.... Rob is incredibly likable, but he doesn't need to be liked."
So Eric Packer, a financial god, perhaps soulless but with feet of clay, is realized by the charismatic, modest Robert Pattinson.
Robert was surprised and excited by the COSMOPOLIS offer.
He recounts receiving the screenplay about a year earlier and thinking it was "one of the most original scripts" he'd read. However, he doubted he'd get the part: "Then the offer came out of the blue and I was amazed!
" Praising David's consistently "thought-provoking" and innovative work, Robert says he was certain about taking the part; however, he admits,
"I had no idea how I was going to play it.... I was scared at first, mainly because I could interpret the script and play it so many different ways...."
He didn't have much time with David before shooting, but he knew he was in good hands. His trust in the director, as well as David's in Robert, was wellfounded.
"I could feel David moulding it as we shot, and that made me really comfortable because it meant there was no specific right or wrong way. Eventually, I was very relaxed, especially for it being such an intense piece."
Pattinson wanted a project that would take him to the edges of himself, and COSMOPOLIS provides the character to do it. Eric Parker is inscrutable and contradictory, both calculating and reckless. Robert had to find the emotional core of a man who is desensitized, a man who interprets the world in terms of numbers and acquisitions.
Robert notes, "I think Eric has an all-consuming ego."
He lives an artificial existence, and Eric's success seems a product of detachment and cold rationality. Yet his odd quest for a haircut is risky, irrational. He normally makes people come to him, including a physician for a daily exam, but he insists on seeing an old-fashioned barber on the opposite side of town, despite the risk to his personal safety.
Rob notes his character's grasp of contemporary events, business and politics. Eric Packer's knowledge of the world, however, comes primarily through technology, and he sees most things as mere information,
"some kind of list or matrix,"
Rob suggests, about which he is dispassionate. Rob describes Eric
"Watching screens informing him of current data all the time. I think he ends up taking drastic measures just to feel something because he's become so desensitized."
He knows, and somewhat owns, many people but seems to have no friends. Even his new wife feels distant, an acquisition, someone to use or ignore. He is the master of his cosmos, but is he lonely at the top? Does he care? The enigma of Eric's character is central to the film, and his interaction with secondary characters both shapes that puzzle and perhaps gives clues to solving it.
Supporting Cast
Cronenberg assured Pattinson of his directorial support in creating an authentic Eric Packer. He also promised Rob "fantastic actors" to work with on COSMOPOLIS -- and delivered. In addition to the masterful Paul Giamatti, Robert performs with cast ranging from the fresh talents of Sarah Gadon and Jay Baruchel to French luminaries Juliette Binoche and Mathieu Amalric. Pattinson sums up the ensemble cast: "All the actors come from different backgrounds, have different personalities and have all done completely different kinds of movies. They didn't know a lot about the film, but everybody wants to work with David and that's why they're here."
DIRECTING STYLE
There are many ways to direct a film. Cronenberg's way does not involve rehearsing, improvising dialogue or using story boards:
"I want the actors to have input into how they move around on set; their body language is as important as dialogue."
Only after that time on set alone with the actors do they bring the crew on set and perform the scene like a piece of theatre.
With the episodic nature of COSMOPOLIS, and no rehearsal, actors would come in for a couple of days not knowing the stylistic tone. Pattinson appreciated Cronenberg's method:
"There was a natural process of getting to know each other which worked brilliantly, especially on this film where there are so many long scenes with so much dialogue, obscure tone and rhythm. Generally, he picked up on it when it felt right for me and he always liked those takes."
Cronenberg clarifies: "Especially with an experienced actor like Paul Giamatti there are so many layers, so much depth, levels of emotion that he can convey in a line of dialogue – that's fascinating – and gives me a sense of how to shoot it. Whether it should be a close up or a wider shot, to see a detailed view of body language."
Giamatti found the experience on Cronenberg's set "liberating." He explains: "I've never worked with such a confident director who has the courage to take full responsibility for the film, which takes the pressure off as an actor, so you're free to do whatever you want."
Pattinson comments on David as an auteur:
"It never feels like David's taking notes from producers to make the movie appeal to a certain quadrant. It's understandable when it does happen, but it's really only because of David that a film like this can be made. I really felt like an actor on this film and felt like I was a part of a creation, rather than just a bunch of stuff strung together with music stuck on."
A LIMO IN ELEVEN PIECES
Under the direction of Production Designer Arv Greywal, two pristine white limousines were purchased to create the main setting of the film. The first is seen in exterior shots of Eric getting in and out of the limo, driving through city streets, into a riot in Times Square. This car is eventually vandalized, beaten and burned, generally mirroring Packer's own breakdown and descent into destruction.
The second car was promptly carved into eleven pieces. Each piece was customized and modular so it would come apart to facilitate shooting from various angles within in the limo against a green screen. In post-production, Mr. X. Visual effects team would transform the green screen into Manhattan streets all the way across town.
Space limitations meant that Cronenberg couldn't be in there with the actors. So, he listened with headphones and communicated through an intercom system while watching the action on a monitor. Of course, he was only a few feet away from them and spoke to them personally a lot of the time.
Robert Pattinson found the system worked beautifully:
"I was in a car for the majority of the time, and David was out by the monitors on an intercom, and yet he was incredibly sensitive to every little thing we did, even when we weren't conscious of it. He always seemed to pick up on things when they were getting interesting, and that was very reassuring."
In addition, Pattinson found shooting in the car helped his characterization of Eric:
"I became familiar with the car and comfortable in my seat, while each of the other actors had to come in and figure it all out for themselves. Everyone else felt alien in 'my' domain."
Given the nature of the story, this seems a fitting dynamic in which to work. There was however, a claustrophobic element that made shooting in the limo no easy task says Samantha Morton: "Truly the most challenging role I've ever had! So much dialogue in my head and the limo moving and people running around! Thank heavens for David's comforting voice on the intercom!" Furthermore, most of the actors are only in the limo.
Cronenberg joked that this was his version of Das Boot and encouraged people to see Lebanon, which takes place in a tank.
After shooting mostly in the limo for over a month,
Pattinson found it "refreshing" to get out and work with other actors experiencing a new set with him in Benno's space and the barber shop, also meticulously created on set by Arv Greywal and his team.
WARDROBE
With a lead character in the same wardrobe for the duration of the film, costume designer Denise Cronenberg recognized the need for perfect choices – and several of them - from day one. Gucci delivered on both fronts: seven black slim cut suits, white shirts, and black ties, belts and shoes. Denise comments:
"I needed multiple costumes for Rob's character so whatever creative choices and possible breakdown of clothing were made during shooting, we would be equipped."
No Rob mention, but very interesting about the movie
ADAPTATION
When asked how COSMOPOLIS came into his life, David Cronenberg smiles: "COSMOPOLIS is one of those gifts that come out of the blue," the kind one hopes for, but which are rare. Paulo Branco—a recognized Portuguese producer whom Cronenberg knew of but had never met—approached him with the rights to DeLillo's Cosmopolis. Branco thought David was perfect to adapt it: "I knew David's artistry would balance the novel's sensitivity and violence on screen."
David knew DeLillo's work but not Cosmopolis. Within two days he'd read it and agreed to write the adaptation and direct the film. David wrote the screenplay in an astonishing six days. "Adapting COSMOPOLIS went so beautifully because Don's book has a cinematic core with the most amazing dialogue that stood on its own, so I spent the first three days transcribing dialogue and the next three days filling in the descriptions of the scenes. And that's pretty much the script we shot with."
However, Cronenberg acknowledges that in "reinventing the story for the cinema...in a strange way I think you have to betray the book in order to stay faithful to it." David explains that some material in the novel wouldn't translate to the screen: "Specifically, there is a lot that goes on inside the heads of certain characters, and that's not something a movie can do without a voiceover, which to me is not the solution. I think the film should feel like the book, so I was quite prepared to be brutal in cutting things out to preserve the essence of the story." Although David closely adheres to what Producer Martin Katz calls DeLillo's "terrific concentration on thoughtful, clever, stagey, theatrical dialogue," the story had to be altered for the screen. Because of the changes, David cautioned the actors against reading the novel. Nevertheless, DeLillo was supportive throughout the filmmaking process and told Cronenberg he approved of the script when they met at Paulo Branco's Estoril.
Don DeLillo's Cosmopolis was published in 2003 and seemed to foretell events to come in 2008 and beyond—criminal activity on Wall Street, IMF scandals, the impact of technology on market fluctuations, and the crises of the American and European economies.
Cronenberg notes, "It was spooky, almost eerie working on COSMOPOLIS because so much has played out in reality." For example, the anti-globalization protests in the novel parallel the global Occupy movements, one of which occurred just blocks from the Toronto studio while COSMOPOLIS was filming. The director calls DeLillo's novel "prophetic—in that he pretty much predicted the economic crisis, yet it's all absolutely fresh right now." As for DeLillo, when he screened it for the first time, he declared COSMOPOLIS a "great film" of which he was "proud to be a part."
via
Gossipgyal
and
RPLife