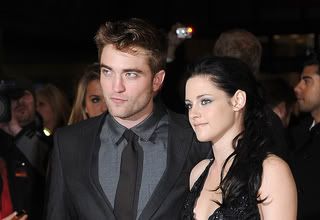 Via
RPLife
From M Magazine: They asked Thierry Fremaux if they "have the first draft of the new generation of young actors" and he replies
"It's hard to say, the competition is tough. You have to make the right choices and meet the right people. Pattinson and Stewart had the chance of rising from Twilight unlike other young actors that are as talented as they are. There are in Hollywood, young actors waiting in the shadow. The market is ruthless. But as for Pattinson and Stewart, they're showing a remarkable maturity when it comes to their careers. And they're wonderful in both movies.
"
The article talks about Leo Dicaprio then: He managed to (almost) make people forget about Jake from Titanic. going from teenager's walls to movie-goers shelves. Will the Twilight actors be able to finance movies that are both challenging and expensive due to their names?
"It's going on to depend on the success of their first steps in the 'grown up' cinema and on the power they will excerce on the screenwriter producers
." continues Thierry Frémaux.
"Cannes 2012 is going to show that there is a movement to go back to the "big" American Auteur cinema. They can take advantage of it, or not. All of this is so fragile.
via
fiercebitchstew
M Magazine Scans
@RPLife