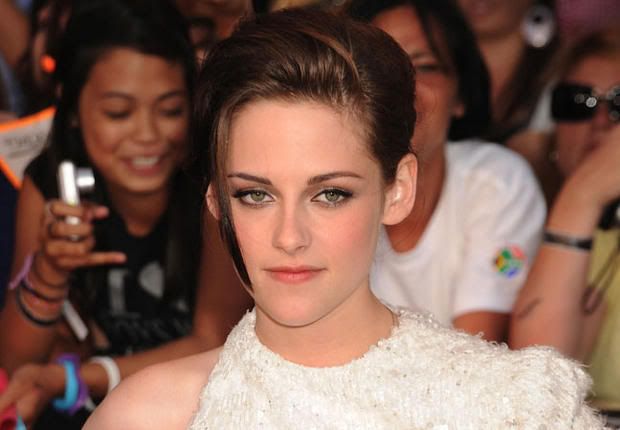 GalaFr
(Google translate) She is the poster of On the Road, Walter Salles adaptation that made the classic novel by Jack Kerouac (in theaters May 23). Her childhood, her boyfriend Robert Pattinson, his phobias and his hobbies, his favorite for Africa: Kristen Stewart confided to no taboos Gala.
CHILDHOOD
Born April 9, 1990, in Los Angeles, John Stewart, producer of TV show, and Jules Mann-Stewart, director of Australian origin. She has an older brother, Cameron, and two adopted brothers, Dana and Taylor. "I grew up in a family that loves the simplicity and that's how I was raised in a modest home in suburban Los Angeles," she says.
HEELS
During the ceremonies Hollywood, his enemies are not the paparazzi but high heels! "I really a holy horror of high heel shoes, we said Kristen. I am always surprised when I get to the end of a red carpet without having stumbled. That's why I always have a spare pair of sneakers in my bag. "
CEMENT
On November 3 will burn forever in the memory of the young woman. "The day I put my hands in cement at the famous ceremony at Grauman's Chinese Theater will surely be one of the happiest days of my life, says she. For me, it's even better than receiving an Oscar. I can not stop thinking about it since, and it's still unreal. "
THE WALL
Kristen was not bad character but the young woman encounters great difficulty in expressing feelings. A situation that can ask him some problems. "There are people who take it badly, but unfortunately I often need to keep quiet and not least, I can not verbalize how I feel, she says Gala. It's hard for me to express my emotions as well in my career, moreover, that in my private life. At school I was called "the wall" "!
ROBERT PATTINSON

Kristen lives a passionate relationship with Robert Pattinson in recent years but the actress has refused to officially confirm her romance with her partner of the Twilight saga. Yet the young woman is very familiar habits. "When he is cold, he needs to drink the soup constantly, she said. It's become a bit sickly and became totally addicted to tortilla soup. "

MONEY

Although she is now one of the richest actresses and the most bankable of his generation, Kristen admits maintain a special relationship with money. "I've always been distant with the money. This is something that remains somewhat mysterious and blurry in my life, she says. Besides myself bought a house, I do offer virtually nothing. "
 
 

CHARLIZE THERON

Kristen Stewart and Charlize Theron met on the set of Snow White and the hunter. Since the two stars did leave more. Kristen considers Charlize today as one of her best friends. "This is the most charismatic person I met at this time in my life says she. Charlize is a woman I admire and whom I can confide. "
 

AFRICA
With the worldwide success of Twilight, Kristen has traveled the world. But his stay in the Republic of Botswana is the journey that is closest to my heart. "This African country located next to South Africa and Namibia me terribly marked. This is the place in the world that, to date, is to me the more meaning. "
 

KITCHEN

When not filming, the young woman spends her time in the kitchen. "My father is an excellent cook and I think I inherited his knowledge, she said. I love food and I love food in general. I have no particular menu, I just like to make traditional dishes, which I hope will continue to please my family. "
 

JOGGING 
 

Her recipe to evacuate your stress, get rid of his anger and his fears? Running. "I discovered that my home physical activity is essential to drive my moments of crisis and doubt, she said. Jogging really help me to remove all the nonsense of my head. "
 

via
via
This sounds like rehashed old interviews put together, worded differently? Probably because its translated. Idk *shrugs*
Kristen mentioned that ''Robert loves tortilla soup"
HERE