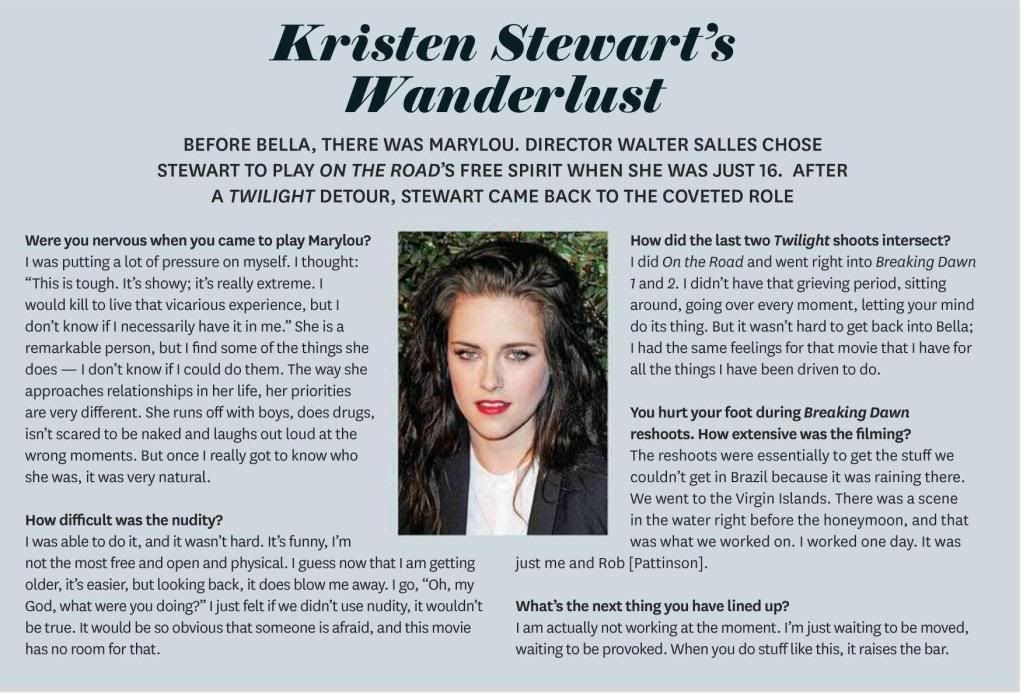 Excerpt from
TheHollywoodReporter
"Making 'On the Road' Stories"
. It appears in the May 18th issue. Full article on their
site
Via
kstewartnews
Thanks to
KStewDevotee
for the scans.
Kristen's Interview Transcription. (From an older interview just right after the April BD1 reshoots)
Kristen Stewart's Wanderlust.
Before Bella, there was Marylou. Director Walter Salles chose Stewart to play 'On the Road''s free spirit when she was just 16, after a Twilight detour, Stewart came back to the coveted role.
Were you nervous when you came to play Marylou?
I was putting a lot of pressure on myself, I thought: "This is tough. It's show;It's really extreme. I would kill to live that vicarious experience, but I don't know if I necessarily have it in me." She is a remarkable person, but I find some of the things she does - I don't know if I could do them. The way she approaches relationships in her life, her priorities are very different. She runs off with the boys, does drugs, isn't scared to be naked and laughs out loud at the wrong moments. But once I got to know who she was, it was very natural.
How difficult was the nudity?
I was able to do it, and it wasn't hard.It's funny, I'm not the most free and open and physical. I guess now that I am getting older, it's easier, but looking back, it does blow me away. I go, "Oh my God, what were you doing?" I just felt if we didn't use nudity, it wouldn't be true. It would be obvious that someone is afraid, ad this movie has no room for that.
How did the last 2 Twilight shoot intersects?
I did On the Road and went right into Breaking Dawn 1 and 2. I didn't have that grieving period, sitting around, going over every moment, letting your mind do its thing. But it wasn't hard to get back into Bella; I had the same feelings for that movie that I have for all the things I have been driven to do.
You hurt your foot during Breaking Dawn reshoots. How extensive was the filming?
The reshoots were essentially to get the stuff we couldn't get in Brazil because it was raining there. We went to the Virgin Islands. There was a scene in the water right before the honeymoon, and that was what we worked on. I worked one day. I was just me and Rob.
What's the next thing you have lined up?
I am actually not working at the moment. I'm just waiting to be moved, waiting to be provoked. When you do stuff like this, it raises the bar.
Here's the excerpt.
Marlon Brando turned it down, Mexican drug wars nearly derailed it, and Francis Ford Coppola never got to direct it -- but the "Twilight" superstar trimmed her fee to less than $200K for director Walter Salles, and Jack Kerouac's beat-generation novel finally made it to the screen.
For the role of Sal and Dean's free-spirited companion, Marylou, Salles had found little-known actress Kristen Stewart through Alejandro Gonzalez Inarritu. "'Look no further,' " Salles remembers the Babel director telling him. "'I've just seen the first cut of Sean Penn's Into the Wild, and there's this 16-year-old girl you'll fall in love with.'" But once she became a star of the blockbuster Twilight franchise, much maneuvering was required to accommodate her schedule. It was critical that filming on Road end before October 2010, when shooting needed to start on Breaking Dawn -- Parts 1 and 2. To Salles' relief, Stewart remained committed to the role for which she received about one-hundredth of her $20 million salary for Breaking Dawn -- Part 2.
"There is something scary and unpredictable and animalistic about Marylou
," she explains about her attraction to the character.
When On the Road debuts in May at Cannes, audiences will see whether the film warrants these years of effort. They also will see whether Stewart, 22 (whose Twilight co-star Robert Pattinson is in Cannes, too, with Cosmopolis), has the chops to create a post-vampire career. And they will see whether Salles, 56, can repeat the success of his most recent Cannes triumph, Motorcycle Diaries.
An 80-day shoot across Canada, Mexico, Argentina, Louisiana, Arizona and San Francisco began in Montreal on Aug. 4, 2010, with the funeral of Sal's father. Everything went wrong: The heavens opened, and rain bucketed down. "I thought, 'Maybe it's not meant to be,' " says producer Yeldham.
Then, gloriously, the light changed in the afternoon and cinematographer Eric Gautier yelled to go. "Some of the best moments in the movie were ones where things went wrong," reflects Riley. It happened again with one scene shot in Mexico, "where I drive the car to this house to get marijuana, and the engine just blew up. That's in the finished film."
But the deteriorating drug situation in Mexico posed a special threat. "We consulted with security experts, who counseled us strongly to get out of there," says Yeldham. The dangers forced a last-minute location shift from Torreon in the Mexican interior to Arizona.
Stewart's fame also required special care. "Wherever Kristen went, the blogosphere lit up with the specifics of her movements," adds Yeldham. Her topless scenes with Riley were shot on a closely guarded set to avoid paparazzi and fans. The pressure of doing the scenes made Riley "sick with anxiety" -- but not Stewart. "I was so shocked at being able to do it," she says. "I didn't feel naked."
Knowing Mortensen (as the William S. Burroughs-inspired Old Bull Lee) was well read, Riley was "terrified during improvisation that he might ask me something about Nietzsche, like, 'What do you think about the Ubermensch?' The night before he arrived, I spent hours Wikipedia-ing Jean-Paul Sartre and others just in case he threw me a curveball." (He didn't.)
For Hedlund, one of the toughest moments came when Salles flew a skeletal team to Argentina to capture a real-life blizzard, and he had to drive while sticking his head out the window. "It was freezing, and I couldn't see a thing," says the actor.
Adds Stewart: "We never stopped shooting. They could have made a 20-hour movie."